C-Leg® above knee prosthetic leg
What you need to know
Why is C-Leg the best choice?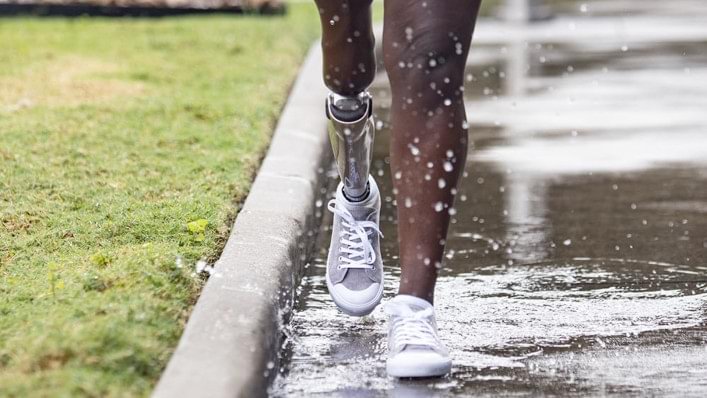 Weatherproof
The C-Leg 4 has an IP 67 rating, which protects it from damage due to incidental contact with or temporary submersion in fresh water. Because the C-Leg 4 is considered weatherproof, you don't have to worry about getting caught in the rain or being around water.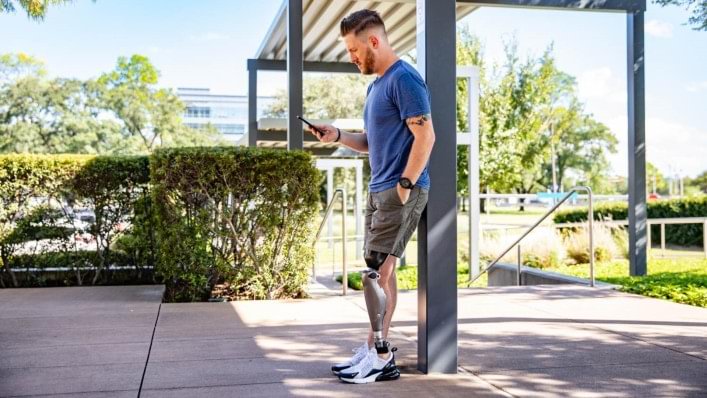 Intuitive Stance
Available only in Ottobock microprocessor knees, intuitive stance automatically activates to fully block the C-Leg from bending or buckling while you are standing, allowing you to distribute your weight evenly between both legs. This helps alleviate pressure on your sound side and helps you maintain a more stable, comfortable position when standing for a long period of time, even on slopes or uneven terrain.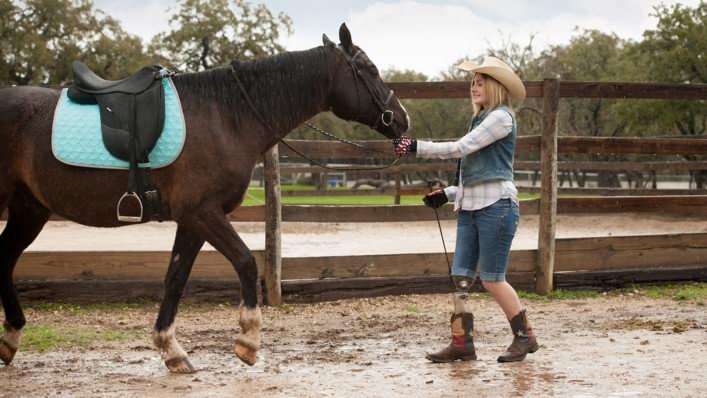 Backward Walking
The patented inertial motion unit (IMU) on the
C-Leg provides stability when taking steps backward or while backing up. Contrast this to other manufacturer's microprocessor knees, which do not accommodate backward walking, potentially causing their knees to collapse when stepping backward.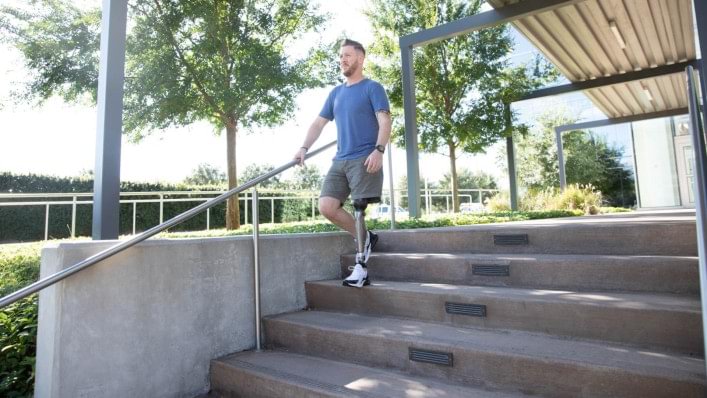 Stairs, Slopes, & Ramps
The stance flexion feature in C-Leg provides hydraulic resistance against knee flexion (bending) mimicking the quadriceps muscle. This controlled knee flexion occurs early in the stance phase of your gait cycle while you are bearing weight on the prosthesis. Providing shock absorption, stance flexion allows you to securely walk up and down slopes and ramps, negotiate uneven / challenging terrain, and to descend stairs step-over-step.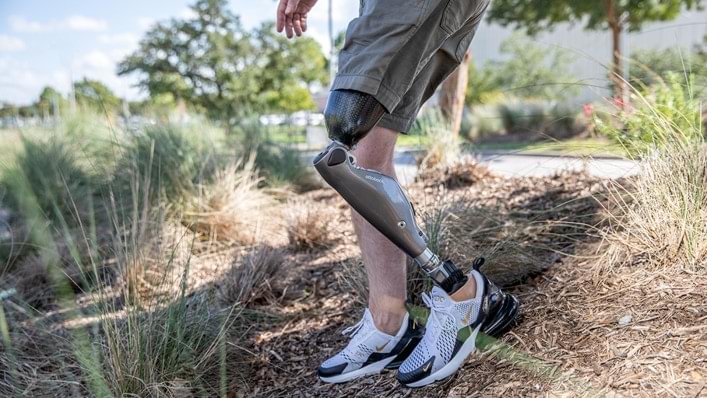 Enhanced Stumble Recovery
With sensors that are always actively controlling and adjusting resistance while you are in the swing phase of gait, the C-Leg 4 can detect the pattern of movement that resembles a fall and will respond immediately by providing even greater resistance. This constant presence of swing flexion resistance paired with an immediate increase in resistance allows you to safely put your full weight onto your prosthesis, so you can easily recover from a stumble and prevent a potential fall.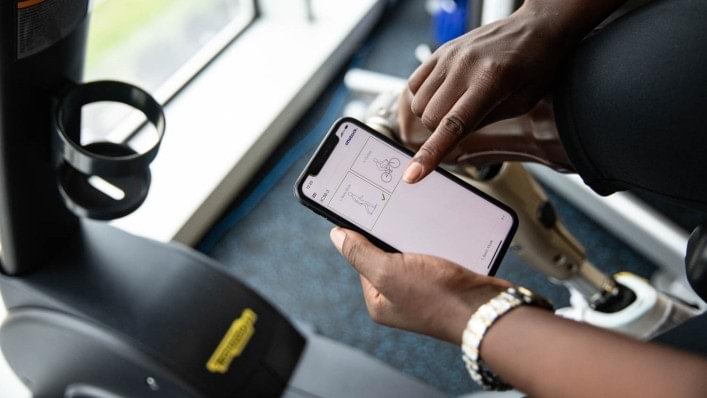 MyModes & Cockpit App
The Cockpit app allows you to adjust the C-Leg to your individual needs in everyday life using an iOS or Android device. With the Cockpit app, you can check your C-Leg's battery life, determine your daily step count, or select preconfigured MyModes for specific activities like biking or golfing.
Technical info
C-Leg 4 specifications
Highly stable yet lightweight carbon fiber frame
Patient weight: Max. 300 lbs
Weight of the knee joint only: about 2.8 lbs
Height of the knee joint with adapter: between 11.2 inches / 28 cm and 21 inches / 53 cm (with torsion adapter)
Adjustable activity modes: 2
Operating time with fully charged battery: 40 to 45 hours
Maximum possible knee flexion angle without flexion stop: 130°
*All components of your prosthesis must be appropriately rated to reach this weight limit. See your prosthetist for specifics.
FAQs
Not finding what you are looking for? Please contact us!
User testimonials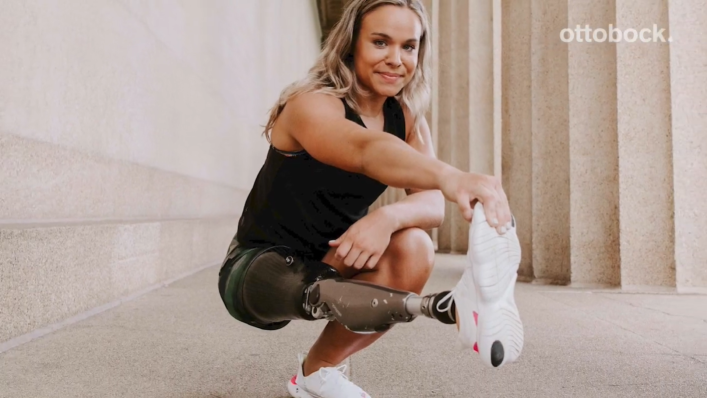 Amy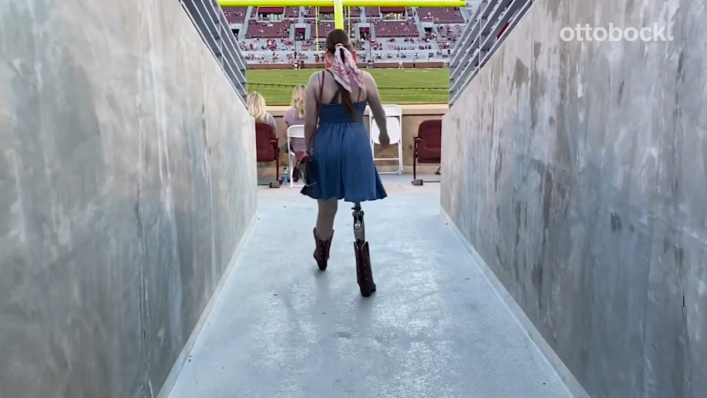 Morgan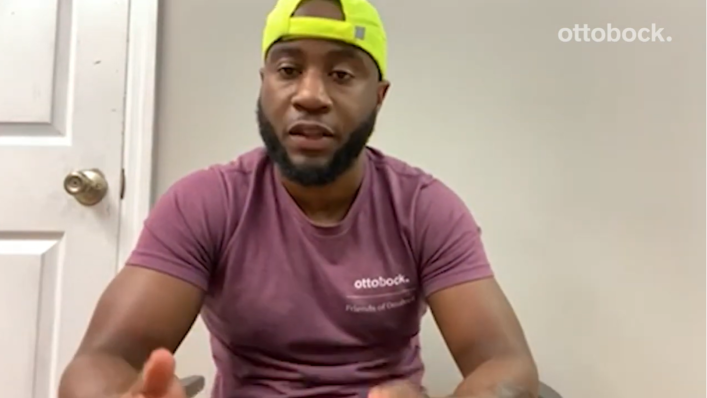 Brandon
Rushel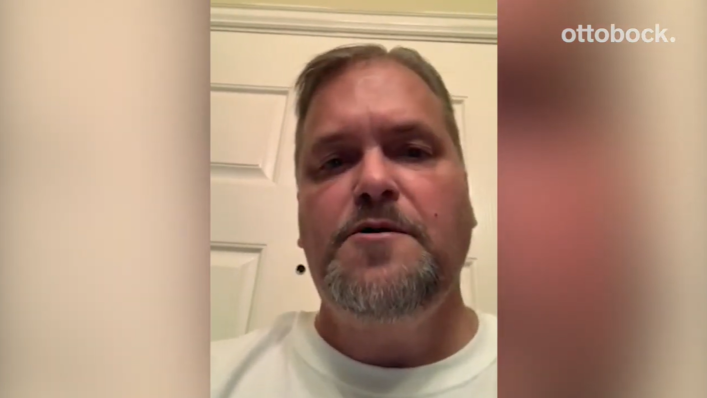 Richie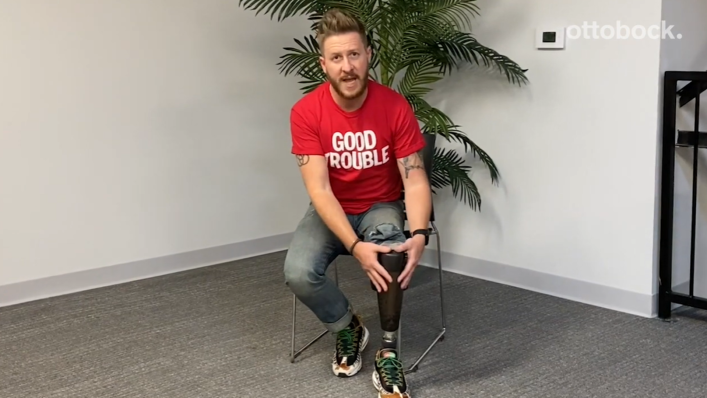 Billy
C-Leg Trial Prep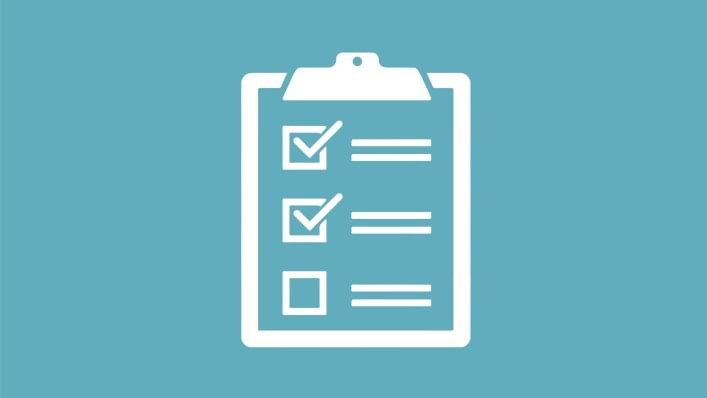 Prepare for your Trial
Prepare for your C-Leg trial using this checklist to review the steps you can take to ensure a successful trial. The C-Leg is designed for users with knee disarticulation, transfemoral amputation and hip disarticulation, for unilateral or bilateral amputation.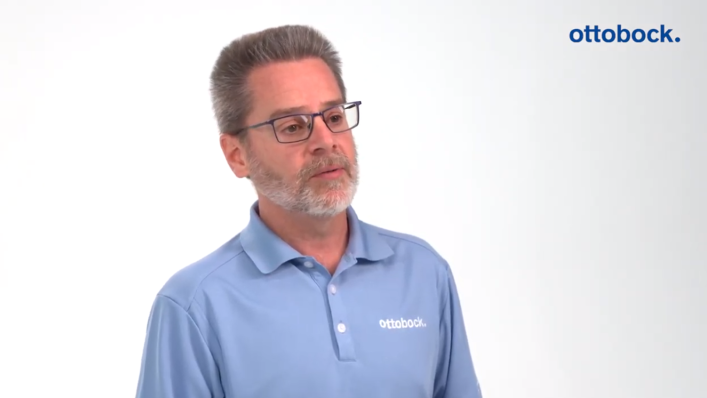 C-Leg Trial Prep Video
Trying out a new prosthetic device can be an exciting occasion for individuals living with limb loss. It can also be a little intimidating if you're not quite sure what to expect. Watch our trial preparation video to better understand the process so you'll be ready to experience the advanced features the C-Leg has to offer.
---
Accessories
---
Related systems