"Putting on the C-Brace for the first time was a feeling I will never forget. Right then I was me again."
David
"I was so fortunate to find the
C-Brace. I'm walking!"
Marjan
"My C-Brace means so much to me. It's given me back the life I thought I'd lost."
Denise
Yes, I want a no-obligation trial of the C-Brace!
C-Brace Success Stories
Marjan
After cancer treatment and several operations, Marjan's leg was left paralyzed. With the
C-Brace, Marjan can walk and ride a tandem bicycle with her husband again.
David
David is paralyzed from the hip down after an explosion during military deployment. With bilateral C-Braces, he is able to go fishing with his father again.
Denise
One of the young mother's legs was paralyzed after a common intervertebral disc operation. With the C-Brace, Denise can walk naturally again and is able to keep up with her kids.
Melvin
Melvin's leg is paralyzed due to polio. With the C-Brace, Melvin can ride his bike and play in the garden with his nieces.
Hannah
Hannah was diagnosed with incomplete paraplegia after back surgery. Thanks to the
C-Brace, she leads an independent everyday life again with her husband and two children.
Wolfgang
Wolfgang's leg is paralyzed as a result of polio. Thanks to the C-Brace, Wolfgang can ride his bike and do yoga again.
What is the C-Brace, and who can benefit from it?
The C-Brace is a microprocessor-controlled leg orthosis that responds to everyday movements and situations in real-time. This helps ensure the safety, stability, and confidence in user's everyday lives. The C-Brace allows people with paralysis in their legs to walk on uneven terrain, go up and down slopes and inclines, and take the stairs one foot at a time, step-over-step. C-Brace users can enjoy activities with their families and friends, and experience life in a completely new way.
People with neurological indications of the lower limbs can benefit from the C-Brace. The leading indications are incomplete paraplegia (lesion between L1 and L5) with very minor to no spasticity, as well as post-polio syndrome, a condition that can follow poliomyelitis.
How does the C-Brace work?
Live the life you deserve with the C-Brace. Request a free, no-obligation trial now.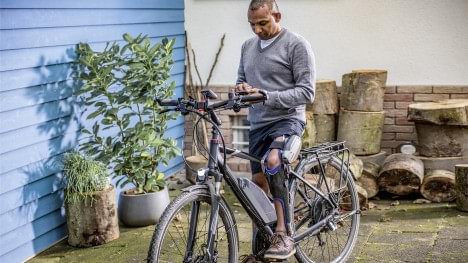 Interested in learning more?
Click here to sign up for our newsletter.