"By far, C-Leg is the MPK that's allowed me to be the most active and stay safe doing so."
Amy
Live by example. Amy's self-proclaimed mantra that drives her to pursue her passion for sport also drives her to face life as a limb different person head-on, with serious grit and determination. Born with a birth defect, Amy has worn a prosthesis her entire life. Determined to no longer let her prosthesis hold her back from pursuing sports, she found C-Leg while searching for an MPK that would give her the advanced technology she needed to live the active life she wanted. Over the last four years since she began training in kickboxing, she's gone from being, in her words, "non-athletic" to being featured in a Nike campaign as a star athlete. Her favorite C-Leg feature is Intuitive Stance because it allows her to evenly distribute her weight between her sound leg and her prosthesis, and then safely place all her body weight on the C-Leg while she turns in to kick with her sound limb.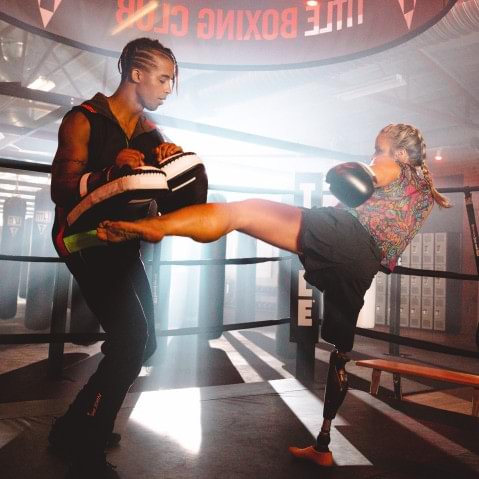 "I don't feel like a handicapped person very often because I have access to the right tool for me: C-Leg."
Billy
A man of many passions and deep devotion to his faith, Billy is the Executive Director at an amputee-serving non-profit called Steps of Faith, a talented musician, an incredible friend to many, and most importantly a dedicated husband and father. Diagnosed with Ewings Sarcoma after dealing with ankle pain for several years, in 2005 Billy lost his left leg above the knee in order to save his life. He began wearing C-Leg soon thereafter in 2006 after spending a short time on a mechanical knee joint. After taking those first few steps on a C-Leg, he instantly felt faster, safer, and more confident. Today he's wearing his third C-Leg and attests that no other knee would give him the life he wants. "I do whatever I want without thinking about it. I don't fall. I walk confidently up and down stairs, up and down inclines, I play with my kids, and I play music." Billy says his favorite C-Leg 4 feature is the weatherproof IP67 rating so he doesn't have to worry about damaging the knee if it's raining.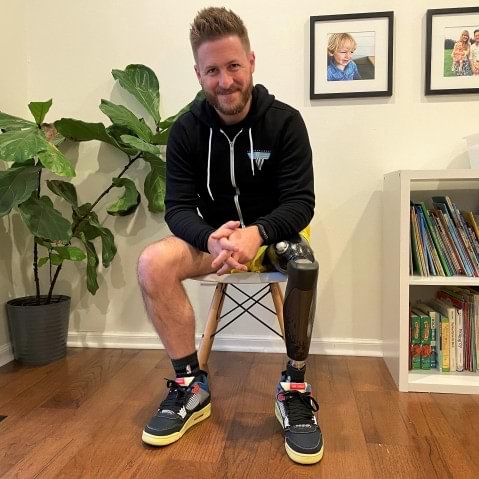 "The C-Leg has improved my life tremendously."
Brandon
After losing his leg in a traumatic motorcycle accident in 2019, Brandon was blessed with an overwhelming amount of support from his family, friends, and fraternity brothers. He credits that support with helping him through the mental challenges that come with recovery from a traumatic injury. Overcoming the incredibly difficult experience, Brandon expresses unwavering gratitude for his life with humbling positivity. He has since started The Mind Clothing, a fashion brand that harnesses his positive spirit with its mission statement, "to enhance minds while creating encouraging vibes." Aside from Brandon's career aspirations, he also places tremendous value on his physical fitness. His ultimate goal is to return to running, but until he's ready for that step, he loves how easy it is to choose the cycling MyMode from the Cockpit app on his smartphone when working out on a stationary bike.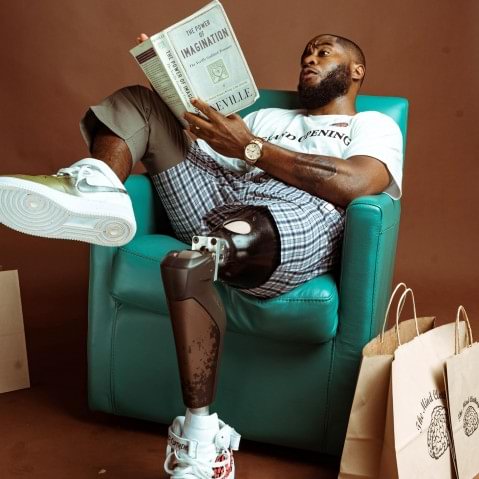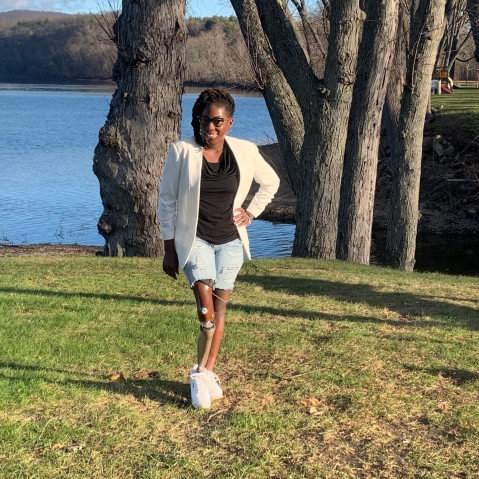 "No other knee compares to C-Leg."
Rushel
Even though she was born with a congenital lower limb discrepancy, Rushel never felt like she had a disability, and was described by her family and friends as going 100 miles per hour on crutches. After being fit with her first prosthesis following her amputation at age 9, it took a few years for her to regain confidence in her mobility. Her gait was never as secure or stable as she needed, and she stumbled and fell often. Unfortunately, she suffered a devastating fall that resulted in a fractured femur that required more than a year of recovery in a wheelchair and on crutches. Determined to feel safe on her prosthesis and never fall again, Rushel did her research and found C-Leg. Now she walks with confidence enjoying the world around her and doesn't have to think about the ground in front of her. She also hasn't fallen again since being fit with her C-Leg. Today Rushel is a peer counselor at Hanger Clinic, and is enrolled at her local university pursuing her education to become a prosthetist.
"I love my Ottobock C-Leg because it lets me be a normal college student."
Morgan
For Morgan who attends the University of Oklahoma, it's important to her experience everything the college life has to offer. That's why when it came to choosing a prosthetic knee, her prosthetist fought for her to get the C-Leg. Rain or shine, Morgan feels safe with her C-Leg to walk to class, attend footballs games and navigate ramps and stairs. With its enhanced stumble recovery feature, she doesn't have to worry about bumping her toe or tripping over debris on the ground. But the best part is that Morgan doesn't have to think about the advanced technology that C-Leg provides, she can just be Morgan, a normal college student.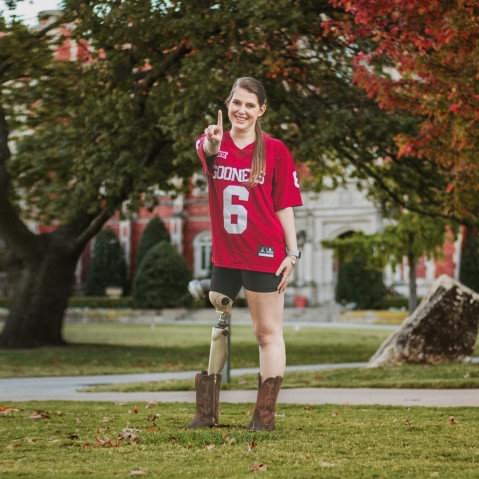 "Even when I'm off balance, the C-Leg catches me. It's wonderful!"
Richie
Richie became an amputee ten years ago, but it wasn't until recently that he was able to walk without a cane. Thanks to C-Leg he's "just able to walk." He loves the safety and security C-Leg provides which helps him pick up items around the house because he has his hands free. Richie's shorter stature also made it more difficult to find a knee that would work for him. With the C-Leg 4, he no longer has that issue. "I love it," Richie says, "Thank you, Ottobock."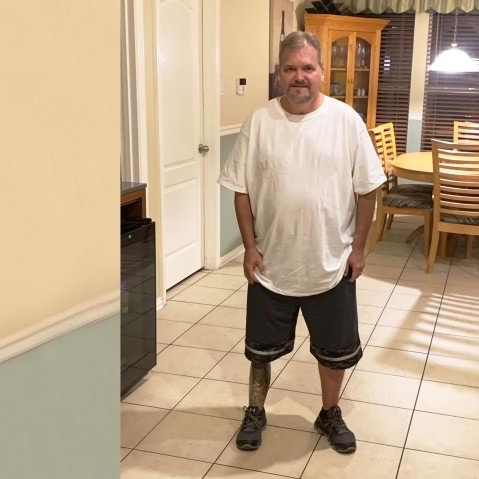 Fill out our free, no-obligation trial request form, and we'll follow up to help determine if the C-Leg is right for you.
C-Leg Success Stories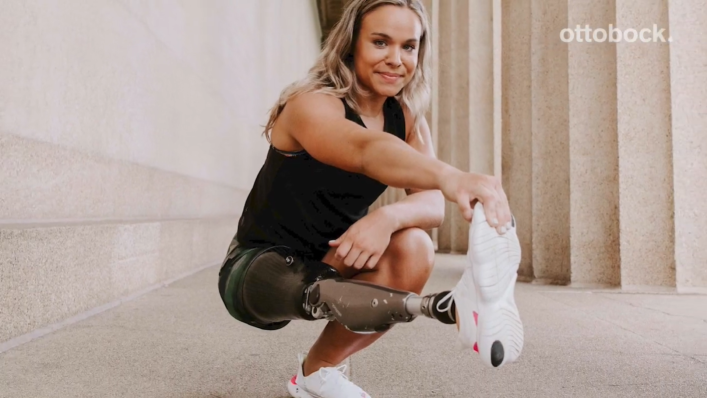 Amy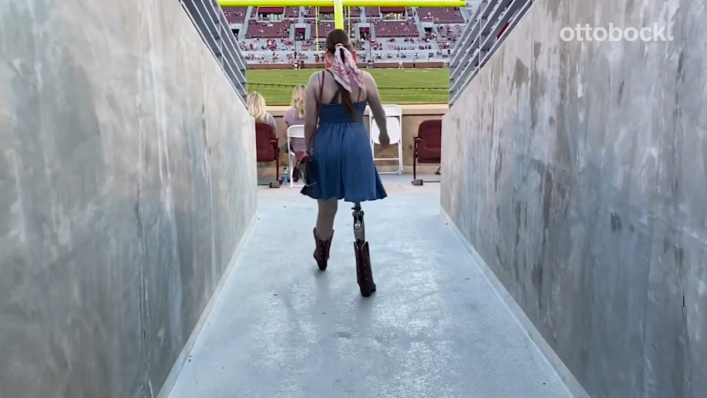 Morgan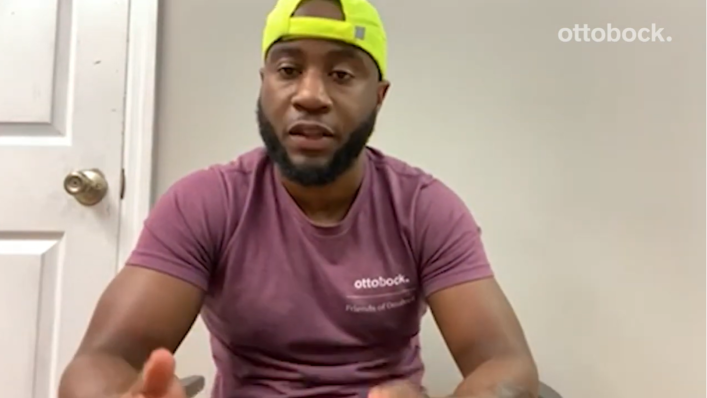 Brandon
Rushel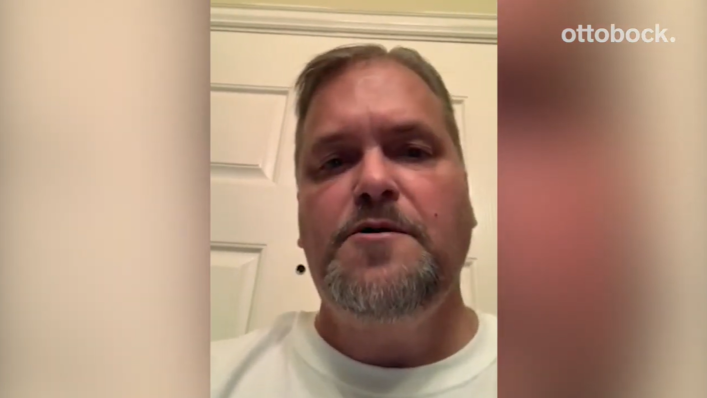 Richie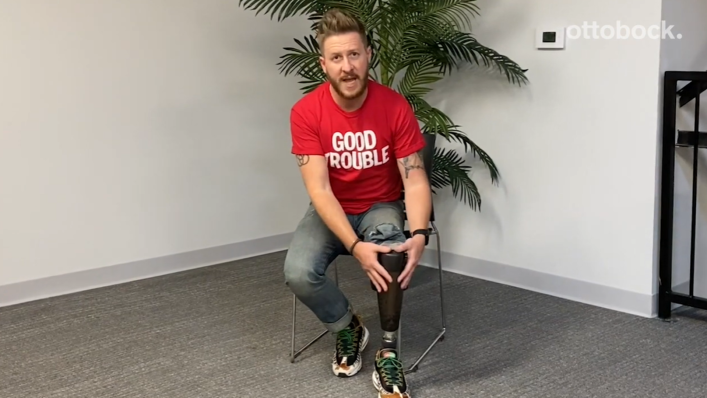 Billy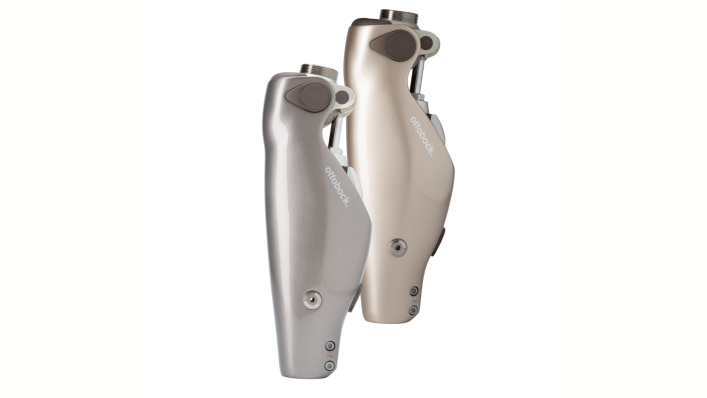 Learn why the C-Leg is trusted, for good reason.
The Ottobock C-Leg is the original microprocessor knee. Since 1997, it has set the standard for every other microprocessor knee available. It's also the world's most studied prosthetic device, period.
Actively controlling and adapting to all aspects of your unique gait pattern and walking speeds, patented technology gives you the confidence, comfort, and safety you need to live an active quality life. With C-Leg, you have the freedom to focus on the world around you rather than on your next step. It's no wonder why 94% of amputees who use C-Leg prefer it to their previous prosthesis*. Not all microprocessor knees are the same. Know the difference.
More fittings worldwide than any other microprocessor knee.
C-Leg has changed the lives of thousands of people just like you. To experience the difference, request your trial today.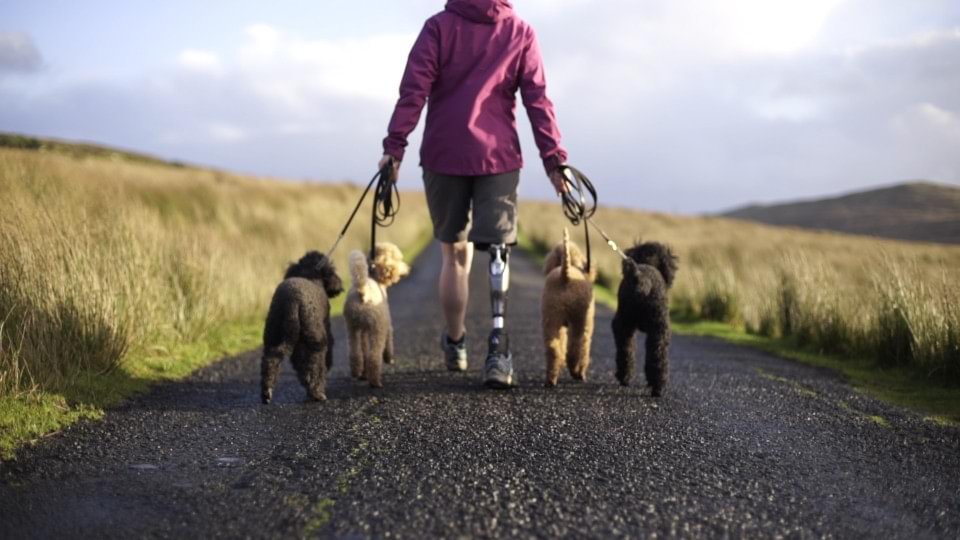 Fill out our free, no-obligation trial request form, and we'll follow up to help determine if the C-Leg is right for you.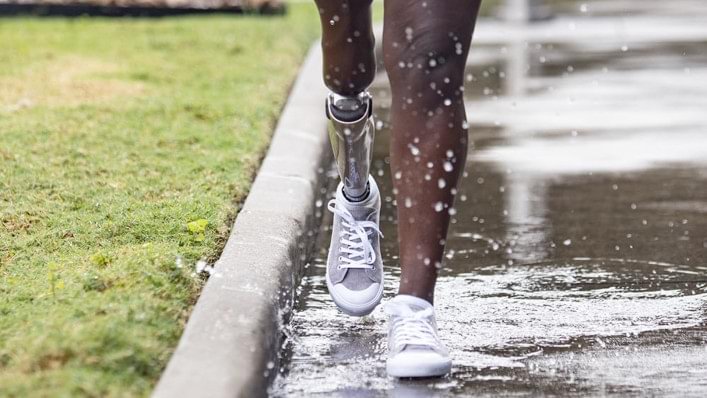 Weatherproof
The C-Leg 4 has an IP 67 rating, which protects it from damage due to incidental contact with or temporary submersion in fresh water. Because the C-Leg 4 is considered weatherproof, you don't have to worry while walking in the rain or using it around water.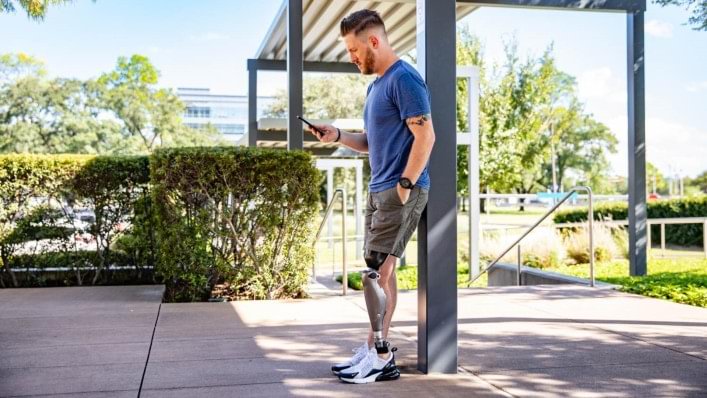 Intuitive Stance
Available only in Ottobock microprocessor knees, Intuitive Stance automatically activates to fully block the C-Leg from bending or buckling while you are standing, allowing you to distribute your weight evenly between both legs. This helps alleviate pressure on your sound side and helps you maintain a more stable, comfortable position when standing for a long period of time, even on slopes or uneven terrain.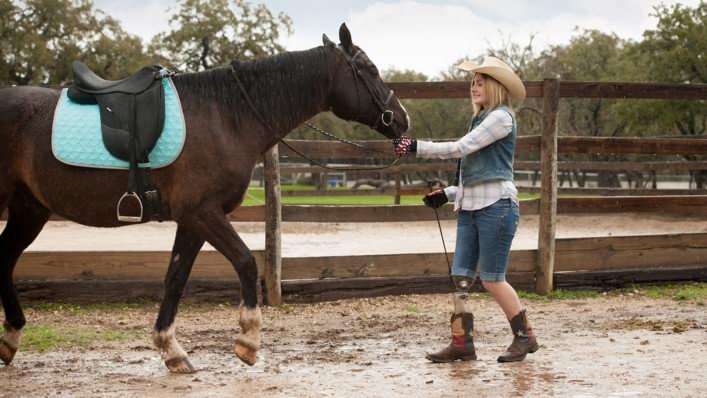 Backward Walking
The patented inertial motion unit (IMU) on the C-Leg provides stability when taking steps backwards or backing up. Contrast this to other manufacturer's microprocessor knees, which do not accommodate backward walking, potentially causing their knees to collapse when stepping backward.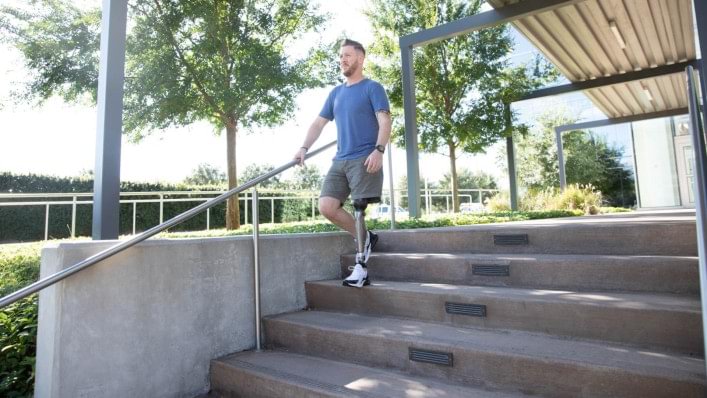 Stairs, Slopes & Ramps
The stance flexion feature in C-Leg provides hydraulic resistance against knee flexion (bending) mimicking the quadriceps muscle. This controlled knee flexion occurs early in the stance phase of your gait cycle while you are bearing weight on the prosthesis. Providing shock absorption, stance flexion allows you to securely walk up and down slopes and ramps, negotiate uneven / challenging terrain, and to descend stairs step over step.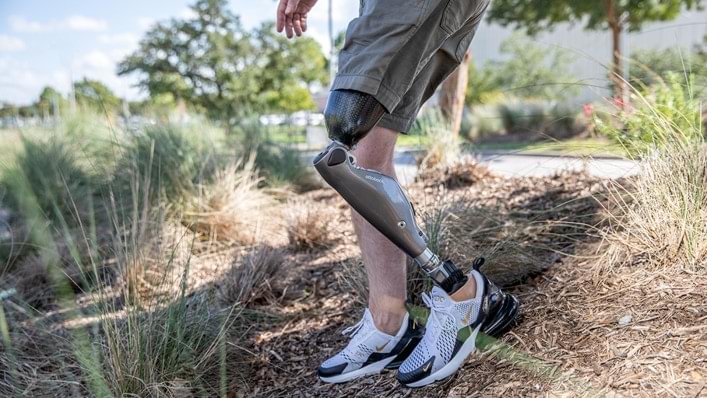 Enhanced Stumble Recovery
With sensors that are always actively controlling and adjusting resistance while you are in the swing phase of gait, the C-Leg 4 can detect the pattern of movement that resembles a fall and will respond immediately by providing even greater resistance. This constant presence of swing flexion resistance paired with an immediate increase in resistance allows you to safely put your full weight onto your prosthesis so you can easily recover from a stumble and prevent a potential fall.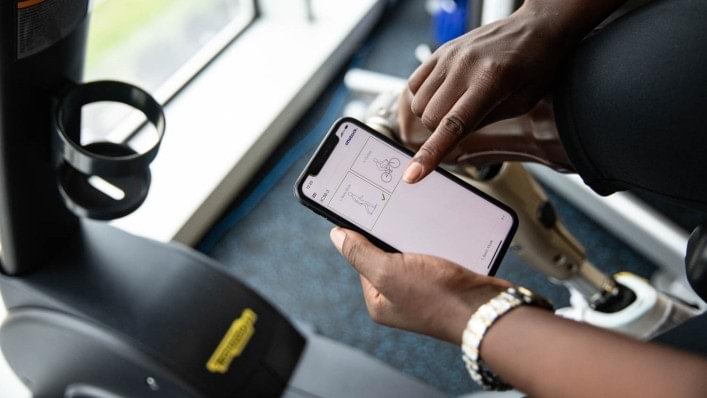 MyModes & Cockpit App
The Cockpit app allows you to adjust the C-Leg to your individual needs in everyday life using an iOS or Android device. With the cockpit app, you can check your C-Leg's battery life, determine your daily step count, or select preconfigured MyModes for specific activities like biking or golfing.
Not quite ready for a trial?
Sign up to receive more information about the C-Leg.
Interested in our other lower limb solutions?
*Kannenberg, A., Zacharias, B., & Pröbsting, E. (2014). Benefits of microprocessor-controlled prosthetic knees to limited community ambulators: systematic review. Journal of rehabilitation research and development, 51(10), 1469.
.