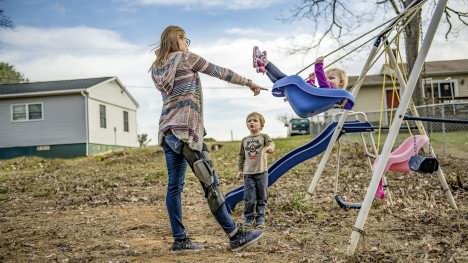 Hannah's story
Hannah was diagnosed with incomplete paraplegia after a routine back procedure did not go according to plan. Her day-to-day life felt like an insurmountable obstacle while caring for two young children in a wheelchair. Today, Hannah wears the C-Brace. For her, the orthosis means taking control of her life again, and not having to rely so heavily on others. Learn about Hannah's independent everyday life.
"We shouldn't just be thankful for having enough to eat in our everyday lives, but also for being able to pick things up off the floor. That's something we shouldn't take for granted."
Hannah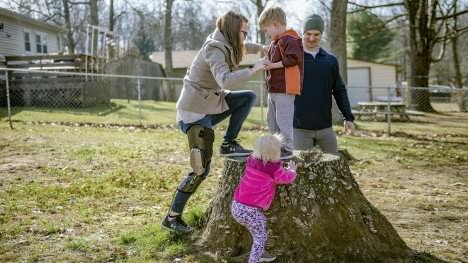 In conversation with Hannah
Hannah remembers when doctors advised her to have her paralyzed leg amputated, which is unbelievable when you see how independent she is in her day-to-day life with her family now. "I can walk again, and I now feel free to do all the things I did before my incident," Hannah says. And as a mother, the most important thing for Hannah is being able to walk while holding both of her children's hands.
Is the C-Brace right for you?
Wolfgang
Wolfgang's leg is paralyzed as a result of polio. Thanks to the C-Brace, Wolfgang can walk without fear. He also does yoga and rides his bike.
Melvin
Melvin's leg is paralyzed due to a neurological disorder. With the C-Brace, Melvin can walk naturally again and play with his nieces.
Try the C-Brace
Contact us by clicking the button below.

We will schedule a personal consultation to determine if the C-Brace is right for you.

Try the C-Brace with no commitments.
What can you do with the C-Brace?