Osteoarthritis – less pain. More life.
31 Million people in the United States suffer from osteoarthritis (OA). One in every two people will develop it by age 85. What are the causes of this joint disorder? How can it be prevented? And, what are the options for pain relief?
Osteoarthritis is the result of years of excessive joint strain and cartilage damage. It can also be triggered as a result of previous injury, such as a meniscus or ligament injury or the result of congenital deformity of the joints.
Obesity, nicotine, and alcohol abuse increase the probability of developing osteoarthritis. Age, gender, and race can also play a role.
Multiple treatment options exist, but many healthcare experts see a gap in early knee osteoarthritis intervention.
Ottobock offers a variety of conservative treatment options to help relieve pain, help reduce over-the-counter and prescription drug use, help prevent further joint damage, and help delay surgical intervention. Our goal is to help patients live with less pain and more life.
---
Information about knee osteoarthritis
---
Frequently asked questions
Downloads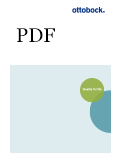 Please choose an appropriate format:
Osteoarthritis infographic: what you need to know
Facts about osteoarthritis and solutions available
---