Meridium
Reclaim your way.
---
Benefits at a glance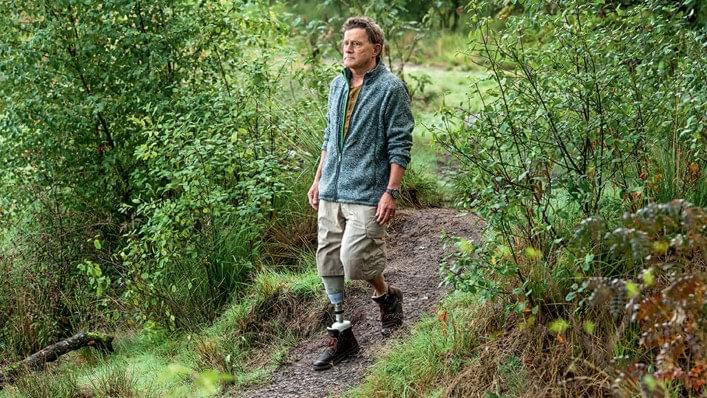 Ascending and descending slopes
Real-time sensing of the ankle motions and slopes allows you to master ground inclinations effortlessly from the very first step. Increased security thanks to more ground clearance when ascending, comfortable descending thanks to the adapted rollover and fast full-surface ground contact.
Walking on uneven terrain
The Meridium adapts to the terrain with every step. No matter whether cobblestones, lawns or forest paths – real-time adjustment and improved ground contact mean it offers a high level of stability over different types of terrain.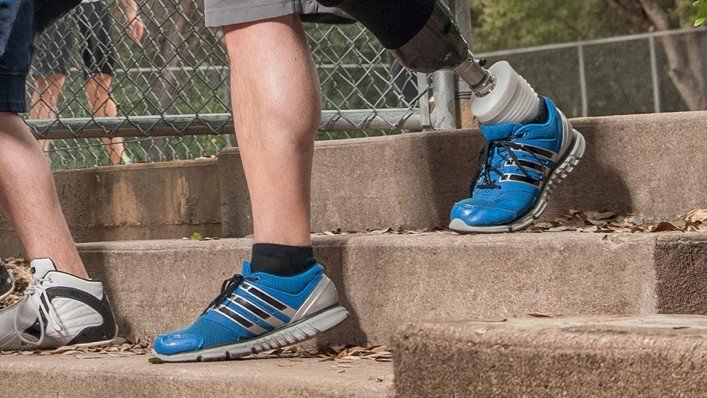 Going down stairs
The Meridium enables you to place your complete foot on the step as you go down stairs. Instead of thinking about the correct placement of your foot, you can concentrate on your surroundings.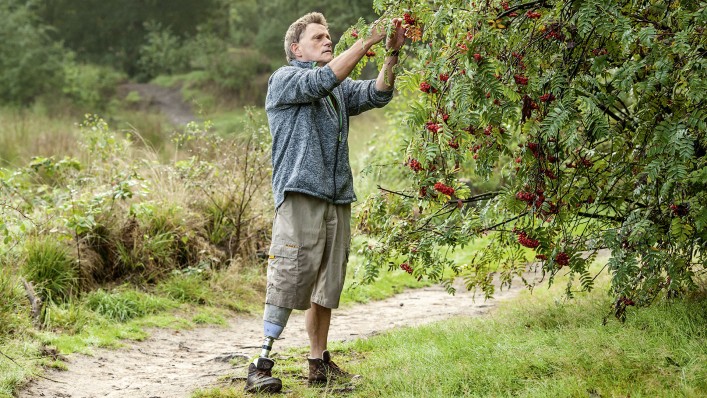 Stable stance
Meridium identifies intuitively when you are no longer moving and require a secure, stable stance – even on slopes or uneven terrain.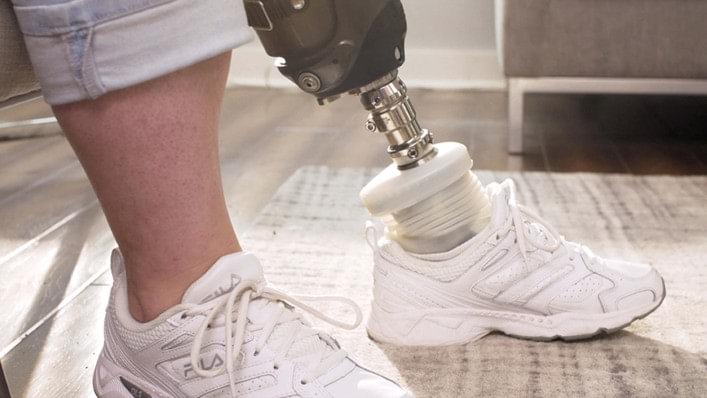 Relief when sitting
When sitting, the Meridium lowers itself to the floor, which both achieves a more natural-looking foot position and also helps to relieve your residual limb.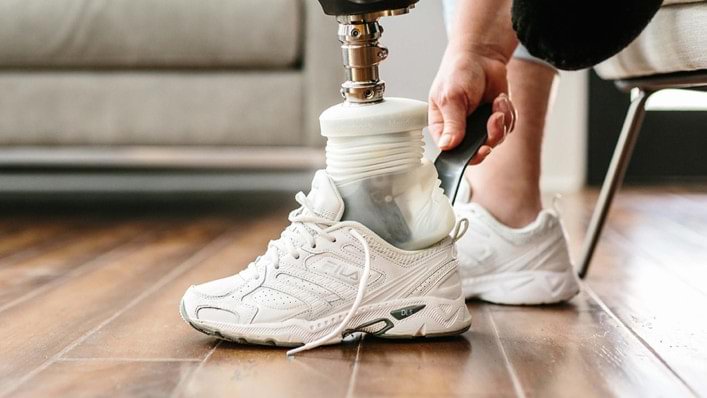 Automatic heel height adjustment
No matter whether barefoot, flat soles or heels – the automatic heel height adjustment allows shoes to be changed quickly and easily.
Functionality
1) The hydraulic resistance is adjusted during initial ground contact to achieve a comfortable heel leverage adapted to the user's stride length.
2) Based on the individually adjusted plantar flexion resistance, the foot lowers itself according to the gait situation with every step.
3) The wide range of motion and real-time adjustment allows full-surface contact with the ground for the greatest possible stability and excellent traction.
4) The movable toe plate provides a large contact surface and ensures uniform pressure distribution in the forefoot area when rolling over the foot at the end of the stance phase.
During foot rollover, the Meridium's four axes cause the ankle joint to plantar flex (foot lowering), which helps keep the body's centre of gravity from lowering during walking. This enables a more even and more natural gait pattern while preventing tiring compensating movements.
5) If the foot is lifted from the floor, the hydraulics maintain an extended dorsiflexion position in order to allow greater ground clearance in the swing phase, while simultaneously achieving a higher degree of safety when walking.
Operation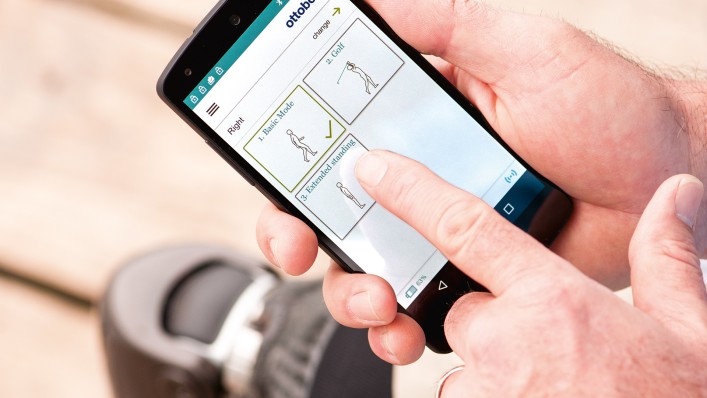 The Cockpit app - easy mobile control
The Meridium adjusts itself automatically to a wide range of situations. Using the convenient Cockpit app for Android, you can also easily adjust the Meridium via smartphone. The app can be used to change the heel height, for example, or to select from a range of preset MyModes. The app also displays additional information such as the charge level of your mechatronic prosthetic foot. Alternatively, simple motion patterns or the optionally available remote control can be used to carry out adjustments.
---
---