Our Community's Resilience Can Help the World in This Challenging Time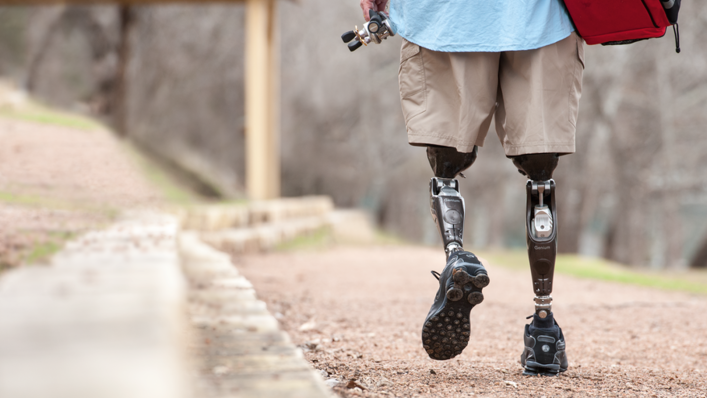 By Aaron Holm | Manager of Consumer Engagement, Ottobock
As a bilateral lower limb amputee, I am proud to say that our community of amputees and people with mobility challenges are among the most resilient people in the world. Most of us know what it's like to be living one way and then, because of a life-changing occurrence, taking a radically different approach to life immediately. Life seems to come to a standstill, much like it has everywhere in recent weeks due to the global pandemic.
This is why I firmly believe that our community is best equipped to rise up with the inner strength that each of you have to help everyone in our families, our communities and the entire world stay as mentally and physically healthy as possible while remaining committed to staying at home to decrease the spread of the COVID-19 virus during this challenging time.
We personally know how to adapt to the sudden change that calls for staying in one place for an extended period of time. Within our community we've likely done it in the past on an individual basis. We have used the adversity to motivate ourselves to get physically and mentally stronger. We have encouraged each other on our individual journeys, and we have learned from each other. Staying home for weeks is obviously not the end of the world, but as you know, it takes a shift in mindset and daily routines.
I'd like to share with you what I learned from my personal experience of going from living life at 100 miles per hour and then having it come to a virtual standstill in 2007 after I was hit by a car and losing my two legs above the knees. I was grounded for five months, and even when I was released from the hospital, I had practically nothing going on. I struggled, but it is amazing how adversity can bring out the best in oneself, and your personal experience becomes a shining light to guide others in similar times.
You have likely experienced the same battles in the mind from isolation, uncertainty, unfamiliar limitations, and disruptive change, but one thing I learned and I have seen over and over again across our community is that we will come out of it triumphantly.
The following is what I have done, and I believe it will help people who are currently struggling to adapt to the new reality of a world that requires everyone to stay home for the foreseeable future.
• Establish a new routine: When I shifted to staying home all the time, I found it helpful to set and keep a new routine. I woke up the same time every day, checked my messages, did my workout and then was ready by 8 o'clock to be proactive in my work. Having a routine that revolves around staying at home all day helped me to stay mentally healthy. The new routine prevented my mind from wandering while energizing me in my new reality. What I learned is that you can create and shape your day through forming a good daily routine, rather than just passively letting your day happen to you.
• Talk on the phone: It can be easy to isolate oneself when staying at home all the time, but I benefitted from talking on the phone with people. Having conversations with folks to make you laugh, share stories, empathize with each other and maintain that human emotional contact is invaluable. In our digital age of social media, it can be too often overlooked. Even amid the recommended "social distancing," picking up the phone and calling a friend or family member makes the "distancing" seem a lot less.
• Stay active inside the home: As far as physical fitness, I have been using small free weights and a Thera Band, which is a rubber resistance band that helped me get through recovery. At home, I continually do a few stretches that work for me. As many of you know, wearing prosthetic devices feels better after routine activity. Also, staying active with your family at home is important, such as playing games and eating dinner together. I have been getting a kick out of teaching my children, whose generation is more accustomed to playing video games, how to play checkers.
• Write down a "To Do" list every day: I believe it is important to write down every day what you want to accomplish during the day. It can be small tasks or big tasks. I've learned that I felt better about myself when I made sure that I accomplished things throughout the day. And if I did not accomplish some things I wanted to accomplish, I'd make adjustments to make sure I do accomplish them on the next day. I have also kept an "after hours" To Do list, too, to capture those activities beyond just activities for my job.
• Go outside for fresh air: It may sound simple but going outside to get some fresh air and feel the sunshine on your face can make a big difference in one's mental health. I have enjoyed going out to my backyard. It's an opportunity for me to step away from my computer and my phone. I also like to do chores around the yard, such a rake the leaves or clean the pool when I have my free time. I also recommend walks in a park, albeit respecting the "social distancing" (at least 6 feet away from other people) that public health officials are currently recommending for everyone. Take a deep breath and exhale slowly. We're going to get through this challenging time. We're going to be okay.
As an employee of Ottobock, I want you to know that Ottobock is here for you. Amid this global pandemic that has affected everyone everywhere, you can stay connected by actively participating in this community of amputees and people with mobility challenges. Your resilience, lessons learned, insights and endurance are guideposts for other people. After all, we're all in this together.
Just by telling your story of overcoming and adapting to a new reality offers hope to a world gripped by the unknown. To make it easier for you to share your story with the world, Ottobock will soon be rolling out ways you can do it. Stay tuned for more information in the near future on how you can share your suggestions on what people can do to make it through the tough times, based on your own personal experience, just like I'm doing.
I'm excited about what our community can do during this challenging time of epic proportions with our hard-won resolve to strengthen and inspire the rest of the world. We know how to advance through adversity and, as much as Ottobock can help you through this community, your voice deserves to be heard. The people around you need your wisdom, your life experience and your assurance that, no matter how difficult things seem to get, there is a light at the end of the tunnel.