Fireside Chats - Mama Cax (Part 1)
Welcome to the pilot episode of our new talk show, featuring host Lacey Henderson. Our very first guest is Mama Cax - blogger, advocate, professional model, and motivational speaker. Plus, we have a variety of interesting guests sharing their stories in upcoming episodes that you won't want to miss.
---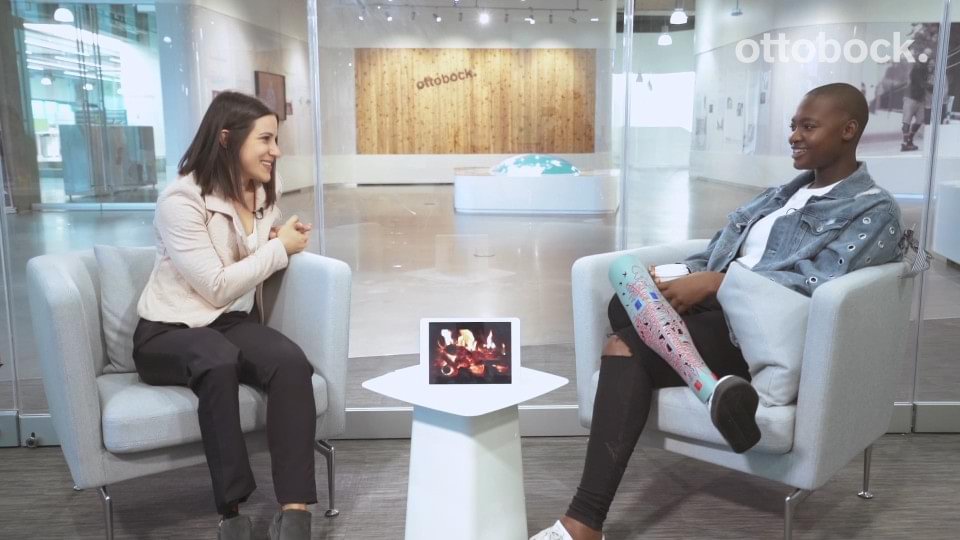 This Instagram sensation strives to change the way people view their bodies
Mama Cax proudly walked off the elevator and into the Ottobock reception area with the help of a prosthetic leg and two forearm crutches. Born Cacsmy Brutus, this fierce Haitian-American woman has become a popular New York-based fashionista who encourages body positivity for those with disabilities, on her social media platform.
Today, she is an incredibly confident lifestyle blogger and professional fashion model. However, Mama Cax had overcome a myriad of obstacles in her life to reach this level of poise and self-reliance. She battled bone and lung cancer at the age of 15, and survived the disease and the challenges associated with a leg amputation. The experience took an emotional toll for a long time.
"When you go through this sort of journey at an early age, you sort of don't really know who you are," Mama Cax shared. "Your whole life has been in hospitals trying to survive, as opposed to learning more about yourself and what you want your future to look like."
When she entered college, Mama Cax launched her quest to "find herself" and discover what she "wanted to do" for her community. During those years, Mama Cax hid her prosthetic leg under long skirts and dresses, because she felt "paranoid that people were staring" at her. One day, years later, she decided to post a photograph on social media that showed her uncovered legs. That was when the tide turned in her life, and she received an outpouring of online support for her bravery.
After a Huffington Post writer reached out to her, requesting an interview for a feature article, she started to attract a following. Then more interview requests from magazines followed and Mama Cax's message of self-love landed her in TeenVogue, Cosmopolitan, Essence, Glamour, Refinery29, ASOS Magazine, StyleLikeU, and i-D.
She became an Instagram sensation and currently shares amazing imagery with over 137,000 followers. Her life trajectory dramatically changed as her life purpose formed and she discovered how to help innumerable people going through similar life challenges, as an advocate and motivational speaker.
---
Related information
---
Related products
The views, opinions and positions expressed by the authors and those providing comments on this publication are theirs alone, and do not necessarily reflect the views, opinions or positions of Ottobock or any employee thereof.