Fireside Chats - Dani Burt (Part 2)
Welcome back to the Ottobock Fireside Chats web-series. We continue with the second installment of host Lacey Henderson's interview with Dr. Dani Burt. Don't miss any upcoming Fireside Chats and updates from Ottobock by subscribing below.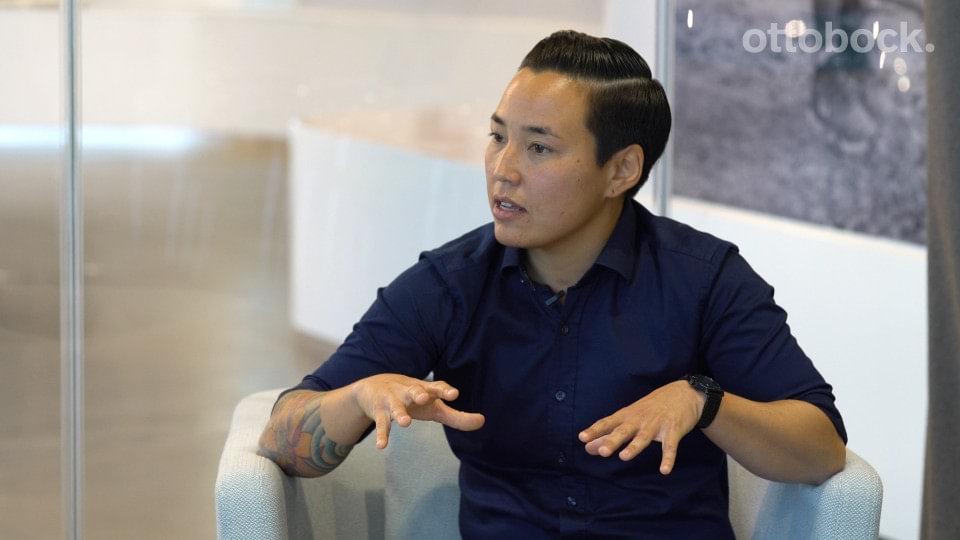 As an amputee and doctor of physical therapy, Dani has a particular understanding of the challenges that amputees face. She emphasizes the importance access to physical, occupational, and speech therapy during recovery from a traumatic event. Therapy treatments lay down a solid foundation of skills to progress rehabilitation. "If you don't have that foundation," she explains, "it's going to be so much harder for you to get ahead and have a better quality of life."
During her recovery, Dani received inpatient services for a month. To pay for her inpatient medical bills, Dani used state assisted insurance, but had to get a scholarship to pay for her outpatient services after she was fitted with her prosthesis. Not only did Dani need physical therapy for her leg, she also needed therapy to regain mobility of her arm and to address the mild brain damage that resulted from coding during surgery.
Before her amputation, Dani had no intention of ever going to college, but after seeing how hard her therapists worked to help her move forward, she was inspired to enroll in community college and pursue a career as a physical therapy assistant.
Then a friend asked why she didn't consider pursuing her doctorate in physical therapy. Seeing as she never intended to go to college, she found the idea crazy at first, but Dani realized that "fear wasn't a good enough reason to not try." Now Dani has a doctorate in physical therapy and is working alongside the same medical team who supported her recovery at Sharp Memorial Hospital in San Diego.
Aside from being a doctor of physical therapy, Dani is also a world adaptive-surfing champion. She had skateboarded and body-boarded most of her life but she didn't take up surfing until after her amputation. A couple of years after her accident, Dani decided she needed to get back to what she loved – being in the ocean.
Some of Dani's surfer friends suggested she get into the sport, but she didn't have a prosthesis that could go into the ocean. After much trial and error, Dani and a friend used some old prosthesis parts and put together a modified leg for her to use.
Fortunately, the modified device worked and her background in skateboarding and body-boarding made it easier for her to pick up surfing quickly. Then one day, while she was in Hawaii supporting a friend who was participating in a surf competition, she was approached by a woman who asked Dani if she wanted to be in an adapted surfing competition.
Dani competed a few times before she went to graduate school, but had to put competitive surfing aside since she barely had any time to surf at all. However, after she graduated Dani began competing regularly and has won various adaptive surfing competitions.
Now, Dani serves as the co-chair of the International Adaptive Surfing Committee to support the "growth and development of recreational and competitive adaptive surfing around the world." The committee serves as an advisory and support system to disperse information, support new athletes who are getting into the sport, and address issues of classification that may arise.
*The views, opinions and positions expressed by the authors and those providing comments on this publication are theirs alone, and do not necessarily reflect the views, opinions or positions of Ottobock or any employee thereof.
---
Related information
---
Related products