Keeping your leg on (suspension)
After amputation, you want a prosthetic leg system that allows you to resume the activities that are important to you as an individual. The more active you want to be, the more attention you should give to suspension, the method of connecting a prosthesis to your residual limb.
You want your suspension system to:
Match your activity level and keep your limb in good health
Ensure your comfort
Provide security with every step
Be aware of the trade-off between convenience and performance. If you insist on speed when putting on and taking off your prosthesis ("donning and doffing"), you will have to sacrifice some prosthetic control.
About suspension
Forces acting on your limb
Various forces are at work in a prosthetic socket, the shell that encases your residual limb. Different suspension systems have varying control over two forces that can cause pressure points or sores on your limb:
Rotation: The socket twisting against your limb occurs during stance phase of your gait (when you are putting weight on your foot). The shape of the socket and the right suspension system will combine to minimize rotation forces.
Shear: Pulling on your skin as your limb moves in and out of the socket (pistoning)—occurs during the swing-through phase of gait (when you are in the midst of taking a step and your foot is off the ground). The liner material and the right suspension system will control shear forces.
Proprioception (pro-pre-o-SEP-shun) is a big word with huge importance for amputees: it means awareness of the movement and position of the body and its parts. In a healthy leg, sensory nerves in muscles and tendons tell the brain where your knee and ankle and toes are and whether they are flexing or wiggling. Your suspension system determines the level of proprioception you can have with your prosthesis. The suspension system that gives you the most secure connection between the socket and your limb offers the highest level of proprioception. That awareness translates to performance and confidence.
---
Types of suspension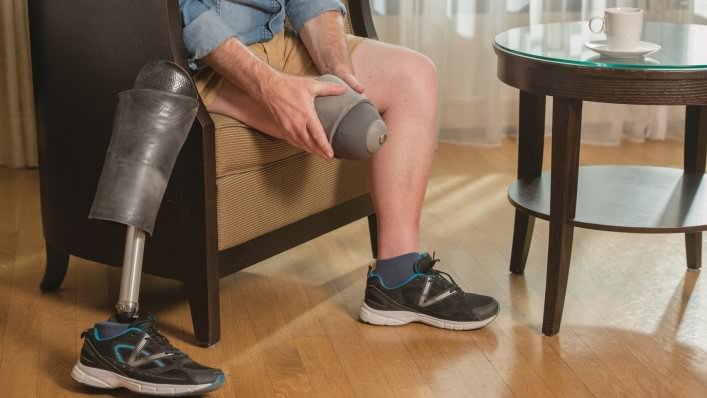 Vacuum
A sleeve creates a seal around the top edge of the socket, then a pump and exhaust valve remove virtually all air between the socket and the liner as you wear them. The system regulates the vacuum level within a defined range. Vacuum enhances how well your socket adheres to your limb, which reduces shear, regulates residual-limb volume changes and improves circulation in your limb.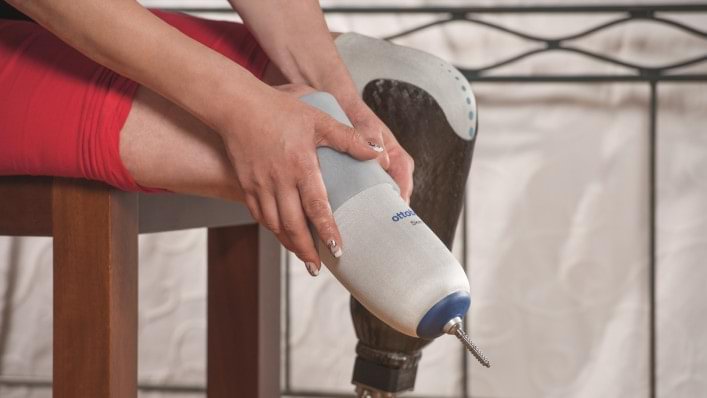 Shuttle lock
In this case, you use a padded liner with a pin at the end. The pin is inserted into a shuttle lock built into the bottom of your socket, the only connection point. One variation for above-knee prostheses, called a lanyard system, uses a strap to pull the liner into the socket. The lanyard also connects the socket to the liner near the top, which slightly reduces rotation and shear.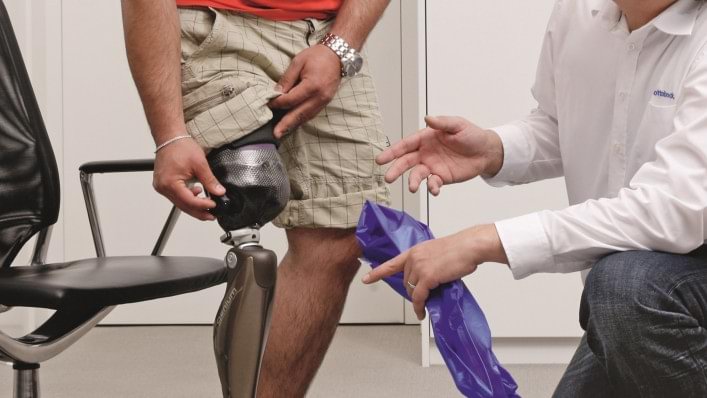 Suction
A suction system consists of a soft liner, a one-way valve and a sealing sleeve. Inserting your liner-covered limb into the socket and applying body weight as you stand expels excess air through the valve. Suction provides even adhesion to the entire interior surface of the socket for security, stability and reduced friction and shear.
---
Comparing systems
Each suspension system has strengths and weaknesses. Here are some of the factors to think about, and how the systems compare:
Activity level. Shuttle-lock systems, best suited for older amputees and patients with reduced mobility, are mainly for amputees with a mobility or activity level of 1 or 2. Suction can be used for all activity levels. Vacuum is appropriate for activity levels 2 to 4, including the most active amputees.
Comfort. Vacuum and suction both require a total-surface-bearing socket, which distributes even pressure on your residual limb throughout every square inch of the socket's surface area. That pressure relief alone makes these suspension systems more comfortable. The superior connection with vacuum, allowing minimal movement of the limb in the socket, makes it the most comfortable. Suction ranks second in linkage. Shuttle-lock systems offer the least control of forces and allow the most movement and rubbing in the socket, the cause of calluses, blisters and sores.
Performance. Vacuum offers the highest performance for maximum confidence and prosthetic control, which promotes a smoother, more symmetrical gait that uses less energy. Shuttle-lock systems fulfill the needs of users with a low activity level, but users with a high activity level probably would notice a lack of control and security.
Proprioception. Because a pump can generate five times the air-pressure differential of suction, vacuum scores highest here. Some patients say the sense of control is almost like having their leg back. Shuttle-lock systems have the lowest level of proprioception.
Limb health. Vacuum excels at limb health. Vacuum actually increases hydration and blood flow, so open wounds can heal even while you continue wearing the prosthesis. In addition, vacuum helps regulate volume changes in your leg as tissues shrink or expand during the day. As a result, your limb retains its size and shape all day, which helps to maintain a consistent fit.
In contrast, other suspension systems constrict blood vessels, causing leg volume to drop an average of 10 to 14 percent as fluids are squeezed out of your leg throughout the day. A prosthesis that fits tightly in the morning will loosen as the day progresses. Too much movement within a socket can cause pain, blistering and sores. Movement in and out of the socket can lead to repetitive impact forces as the socket slides during while you're lifting your leg to take a step and pounds it back onto your limb when you put weight on your foot again.
Convenience. Shuttle-lock systems are the easiest to put on and take off. However, users of these systems may need to add or remove prosthetic socks up to three or four times a day to compensate for changes in leg volume.
With vacuum and suction, your daily routine includes rolling on a liner and shorter prosthetic sock; sliding into the socket; rubbing lotion on your leg at the top of the liner to prevent dragging on the skin; and rolling up the sleeve attached to the socket's perimeter to create a seal with the liner.
Because there's no need to modify the fit throughout the day, active vacuum may save on total time. Either way, most users say the morning regimen is worth it to enjoy the all-day benefits.
FAQs
Take a look at our Frequently Asked Questions for more information.
Conversations with your prosthetist will guide the decision on a prosthetic system. Make sure the prosthetist clearly understands your goals and challenges. Learning about suspension systems will help you discuss the options and advocate for your preference.

An experienced prosthetist understands that your diagnosis and your clinical needs must be documented to justify the components in the prescribed prosthesis as medically necessary, whether for safety or to achieve your potential for a higher activity level.

Suspension systems are critically important to walking comfortably and securely, so make sure you and your prosthetist work together to make sure you've chosen the system that fits your needs.
Can't find what you are looking for? Please contact us!
---