Rushel's C-Leg Story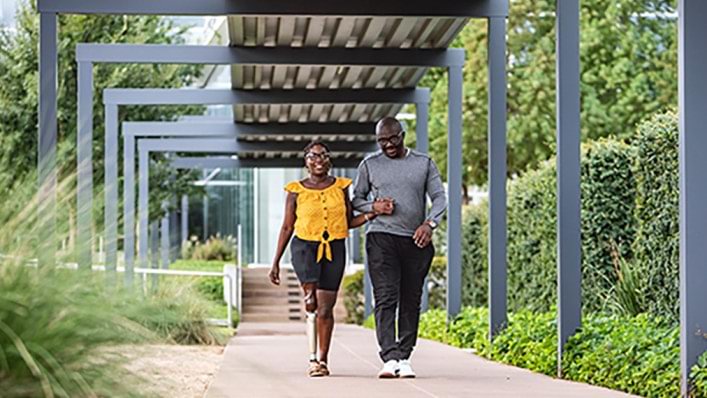 Growing up in the Ocho Rios area in St. Ann Parish, Jamaica, Rushel Rhiney recalls a carefree childhood defined by playing endlessly with her three younger siblings, running and climbing trees all over her small neighborhood. Even though she was born with a congenital lower limb discrepancy, Rushel never felt like she had a disability, and was described by her neighbors as going 100 miles per hour on crutches.
It was one of her closest neighbors who, having just returned for a visit after moving to the United States, told Rushel she could get help for her limb difference. Her neighbor, whom Rushel lovingly calls Grandma Olive, snapped a few photos of her leg and shared them with the physicians at Shriner's Hospital. Things moved quickly after that and within a few weeks, an 8-year-old Rushel underwent above-knee amputation so she could learn to walk with a prosthesis.
Recovery was difficult for young Rushel and she remembers the trauma of looking in the mirror after amputation, not feeling like her body image matched her reflection. Upon returning to Jamaica with her new leg, she was greeted with excitement and curiosity from her community. It was the mid-1990s and fairly uncommon to see a person wearing a prosthesis in her small town. Even with all of the positive attention she received, Rushel still kept her leg hidden, wearing her school uniform skirt long with tall socks to make sure her prosthesis was not visible. She slowly learned to walk with her new leg, but still shied away from mirrors and lacked complete confidence in her physical ability with the mechanical knee joint she had been fitted with.
Flash forward a couple of decades and Rushel had migrated to the United States, taking on a job in the banking industry in Springfield, Massachusetts. On a particularly dreary winter day, she slipped on a patch of ice walking into her office. Unfortunately, falling was not uncommon for Rushel, but this incident was devastating. She broke her femur and had to spend a year in recovery. Rushel faced a lot of personal demons that year, feeling insecure and demotivated by pain. She hated going out in public on crutches and longed for the day she could be independently mobile again. After months of rehabilitation, she made a personal decision to leave behind her shy persona along with her crutches.
Recovered and ready for a new prosthesis, Rushel started researching safer options – determined to never fall again. That's when she found C-Leg 4, the only microprocessor knee clinically proven to reduce falls by up to 80% (Kahle et al. 2008). She talked to her prosthetist and many other amputees who told her C-Leg's advanced technology would be life-changing and much safer than her old mechanical knee. She began walking with C-Leg in 2016 and loves telling people she hasn't fallen since. Today Rushel is a peer counselor for Hanger Clinic and is enrolled at her local university, pursuing her education to become a prosthetist.
---